Get QuickBooks Help from the Expert
Who Wrote the Book on QuickBooks:
On-site and Remote QuickBooks and Sage 100 Contractor
Sales, Installation, Consulting, and Support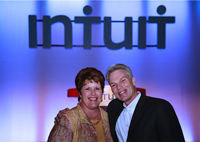 Laura with Brad Smith, President and Chief Executive Officer, QuickBooks Enterprise Users Conference, Dallas, Texas
Actually, Laura Madeira has written several books and DVD's on using QuickBooks. The good news is you can benefit from her QuickBooks knowledge and 25+ years of experience through her QuickBooks Setup, Training, and Troubleshooting services.
If you:
Have outgrown your current QuickBooks or know you and your bookkeeper are not using it properly or fully

Need help deciding which version of QuickBooks is right for your business

Want to get QuickBooks set up right the first time for your business

Need help with installation, setup, or data conversion

Need to troubleshoot some issues you are having with QuickBooks

Want to get Sage 100 Contractor set up right for your business

Would love to have an ongoing resource that your bookkeeper can call when they have a QuickBooks or Sage 100 Contractor (formerly Master Builder) questions
Then you're in the perfect place. We can help, and we have over 25 years experience doing just that.
Why We're Different:
There are a lot of reasons to hire our team:
Our services are turnkey: you can buy the accounting software from us, we'll install it, and we will train your team, so that you are only working with one vendor throughout the new systems process.

We are current in our knowledge, have several certifications, and take additional training annually to re-certify. We are:

Named to the Top 10 and Top 100 Intuit QuickBooks ProAdvisors for multiple years!

QuickBooks Advanced Certified Professional Advisor

QuickBooks Point of Sale Certified Professional Advisor Intuit Premier Reseller


Sage Certified Consultant for Sage 100 Contractor (formerly Master Builder)

We have the inside knowledge and connections at Intuit that can help you get any questions that you have – answered. (See Laura's picture above with the President of Intuit.) Laura is a:

Member of Intuit Professional's Trainer/Writer Network

Founding Member 2003- 2005 Customer Advisory Council for Intuit, Inc.
What We Do
We provide sales, consulting, training, setup, and troubleshooting for:
QuickBooks Enterprise Solutions

QuickBooks — all versions

QuickBooks Point of Sale

Sage 100 Contractor (formerly Master Builder)

QuickBooks Integrated Applications
We offer on-site or remote assisted (via Internet) expert software consulting and staff training in the proper use of your software.
---
"I've been working with Laura for about 10 years now…… we've
converted to QuickBooks at our nightclubs, we've gone through constructing
new nightclubs using QuickBooks, we use QuickBooks at our central office,
and we now run day to day operations using QuickBooks. Laura has set up
everything from the "get go" and made it work for us. She's
a pleasure to work with, has the patience of a saint (the proof is that
she hasn't fired us as a client!), and always has time for our peculiar
problems. Busy as she is, she still finds the time to review and verify
my bookkeeper's work…. month after month, year after year. She's
the best!"

– Steve C., Bar and Restaurant Owner
"Laura is the only QuickBooks Certified Professional Advisor to
whom I refer our clients. I am always impressed with both her knowledge
of QuickBooks and her efficient, common-sense approach. She is a true
professional."

– Lance Plumblee, PropertyBoss Solutions,
LLC
"Laura is an excellent Sage 100 Contractor (formerly Master Builder) resource. She made the transition from QuickBooks to Sage 100 Contractor smooth and on time. Her knowledge, expertise and professionalism are refreshing and she has the skill set to deal with people of all skill levels. I would highly recommend Laura to anyone,
unskilled or highly skilled, looking for assistance with Sage 100 Contractor"

– Penny Sult, Controller, Cyrus Technologies,
Inc.
---
Try Us Out for Free!
Benefit from our specialized experience and expertise with software products.
Call us at 214-705-9192 today for a free phone consultation.